FOR SALE AN ENTIRE PRODUCTION LINE, MACHINES AND STAINLESS STEEL TANKS, PASTEURIZER, COMPLETE MANUFACTURING, PACKAGING, HOT FILLING, BOTTLING LINE OF FRUIT JUICES, NECTARS, SOFT DRINKS FOR THE FOOD INDUSTRY.
PRICE EXCLUDING VAT : 24.600 €.
Complete bottling line, a real small factory, capable of producing and bottling from one to five pallets of fruit juices, nectars and drinks per day.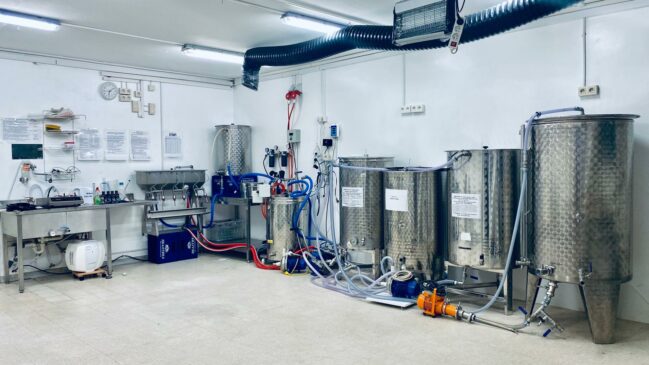 The line can fill bottles of various volumes, for example: 1.0 liter, 0.5 liter, 0.20 liter, etc.
The line can be managed by three to four people, in order to fully exploit its capacities.
Here are the operations to be performed, some of them simultaneously:
– Rinsing and drying the bottles.
– Mixing of ingredients in the mixing tank, optimization of pH, acidity, sugar.
– Passage to the pasteurizer between 72 C° and 90 C°, according to the need of the ingredients and the production technology of the drink.
– Hot filling.
– Closing of the bottles with previously steamed capsules.
– Labeling of the filled bottles.
There is also a production line designed for the production of small series and samples, bottling of experimental drinks, fruit juices, nectars, drinks in small volume bottles: 200 ml – 350 ml.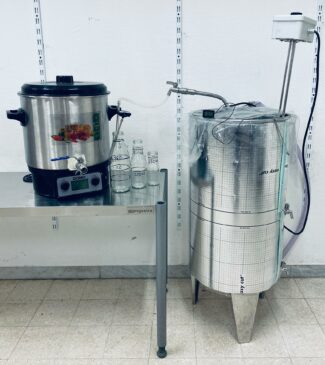 This line is useful to create, produce, develop, test, improve new products. To produce and present samples of new products to potential customers. With this installation and its tank of 27 liters, it is possible to bottle in one time, according to the needs, from 10 to 100 bottles.
This part can be managed by one person.
For a larger quantity, a bigger production volume, it is more profitable to use the block n°2.
Contains: stainless steel assembly tank, pasteurizer
Terms and conditions of sale:
– The prices listed are exclusive of VAT (excluding taxes).
– Before purchase, the whole line is assembled and connected to electricity and water supply for a test.
– Before the purchase, the line is tested by the seller in the presence of the buyer.
– The dismantling of the line is done by the seller under the supervision of the buyer.
– Transport from the seller's premises is organized and carried out by the means and at the expense of the buyer.
——————–
You are interested by the production line ? Contact us at : TEL. / WhatsApp / Viber : +32487370112 or EMAIL : contact@aainvest.be